Equatorial Guinea, Following The Path Of Greatness
To Equatorial Guinea, where the Dark Continent meets the Deep Blue Sea, and oil floats the ruling family to a higher realm.
A spectacularly corrupt kleptocracy has evolved this West African island and some coast into a tropical gangster parody.
Think Of It As A Name Tag  
President-Till-The-Cows-Come-Home Obiang Nguema Mbasogo has presided for three decades since killing his uncle, the previous dictator, and now the New York Times reports that a swanky bit of Malibu may be forever E.G.
Strongman scion and heir apparent Teodoro Nguema Obiang spends much of his time in a multimillion dollar mansion in this suburb of the stars, despite US laws that nominally bar corrupt foreigners from our shores.
 
Equatorial Guinea has been in an expansive mood lately. Â  The regime recently sprang a mercenary jailed in a murky coup attempt, freeing an unhappy Simon Mann to pursue his claim that Son Of The Iron Lady Mark Thatcher helped the plot.
President Obiang, shown here gathering strength from the martyred Che Guevara,
   has friends throughout the world.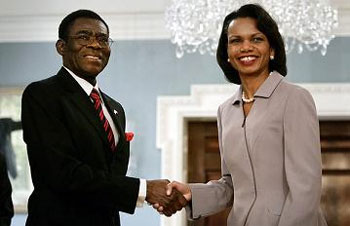 The regime's website practices a level of delicious shamelessness, posting headlines like  "DEMOCRACY AT ITS PEAK IN EQUATORIAL GUINEA" and leaving them up despite mockery.
  A vast presidential mansion is being built, and even better,  a presidential library! 
Where did this big idea come from?
Equatorial Guinea has had a storied relationship with one American who has promiscuously spread himself over our nation's Presidential Library universe.
World Beater
Joe L. Allbritton is a cartoonish exaggeration of Washington incestuousness, serving on boards for the Kennedy Center, the Lyndon Johnson, Reagan and George H.W. Bush Presidential Libraries, and a failed effort to bring George W. Bush's to Baylor University.
Alblbritton financed his service to former greats' memories through his ownership of Washington's Riggs Bank, a daisy chain of power ensnaring Russian spies,  Saudi princes, a Bush uncle, General Pinochet and the Obiang family.
For hiding Obiang and Pinochet millions Allbritton lost the bank.  Riggs paid $39 million in US civil and criminal penalties, $8 million in Spain.  Allbritton and his son personally paid one million dollars to Pinochet torture victims.