Saddam Squared Away
Baath Waters Run Deep 
Former Iraqi Strongman Saddam Hussein's yacht Ocean Breeze was for sale by these guys, but the current Iraqi government  spoiled the party, snatching back the ship as ill-gotten loot. The Ocean Breeze was to have gone on sale in Nice, where it showed up after spending twenty years holed up in Saudi Arabia.
Now Iraq is putting this remnant of the eighties  on sale at last!
It's reported to be super-swanky throughout, with
all the gilded table legs a kleptocracy could need.
Saddam appears to have opted for defense in depth with yachts as he did palaces. Â 
      This one did not survive the American invasion.
Ship Shape! 
In further Dictator Chic News, The Sunday Times reports great progress on the Tikrit area Saddam Presidential Library & Tomb.  
The grave itself is looking sharp, and his tribesman have added that special Presidential Library touch, the "recreation" of the great man's office.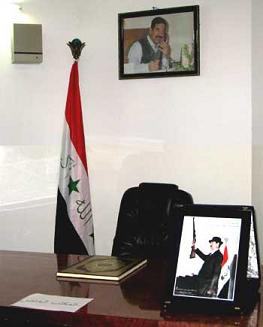 Comments and trackbacks are both currently closed