Burnt Out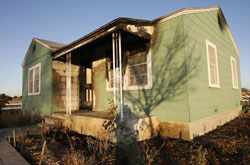 Home on the Range
First the Cheney office fire, now arson has struck a childhood home of President Bush.
Odessa Texas's thoughtful recreation of mid-American mid-century middle class splendor
has suffered damage to "the green carpet inside the living room, the mid-20th century radio console near the door and the ceiling. Much of the porch roof is burned, and smoke damaged the ceilings throughout the home."
But hope lives: "The Bush family photos in the northwest bedroom were not damaged"
A youthful George W. Bush moved to Odessa Texas with his parents at age two in 1948. His short-lived encounter with the region lasted but a year, then the family enjoyed a brief sojourn in California. After tasting such delights as Bakersfield and Compton they returned to West Texas in 1950, but this time they settled in the comparative glamour of Midland.
All this too and fro, and what can only be called rootlessness has left multiple Former Bush Homes scattered over the landscape. The family had three addresses in Odessa, then three in Midland before heading to Houston. When George W. Bush lived in Midland eleven years as an adult he had four more addresses.
The fire-damaged home is the only one remaining in Odessa, moved from it's original location to the backyard of the covering-all-bettingly named "Presidential Museum and Leadership Library,"
which bizarrely enough claims to have actually preexisted both Bush Presidencies.
Traditional Odessa rivals down the road in Midland have their own entry in the recreation race. Pledging that "The George W. Bush Childhood Home will be one of the Nation's first 1950s residential restorations," the George W. Bush Childhood Home Inc. has visions of raising $7 million to gussy up one of Bush's Midland homes.
Comments and trackbacks are both currently closed