New Uses For Dead Presidents
Richard Nixon: His Shameful New Roll
Remember when Barack Obama shocked America,  demeaning his high office-to-be by producing a President-Elect logo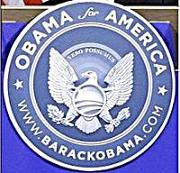 which traduced the sacred presidential seal?
The feigned outrage was briefly energetic, and then the circus moved on.
Let's all brace ourselves for new outbursts, as the Nixon Library Foundation has found an exciting new use for the emblem.
Anthony Clark's dogged explorations of  presidential libraries' seamy underbellies are documented on his prezlibs blog. Clark reports the Nixon Library Foundation announced White House seal toilet paper, then apparently thought better of it.
" I'd love to link directly to it, but sometime in the last five days the product was removed from the Nixon Foundation's web site. Here is where the item in question used to appear on the Nixon Library online store. You'll notice that the main product area is blank."
We Choose To Sell Out       
Further East, even in whoring for commerce the Kennedy Library as always out-swanks Nixon, signing up the late president to flog watches.