The [Preston] Hollow Men
Chronicle Of A Fool Foretold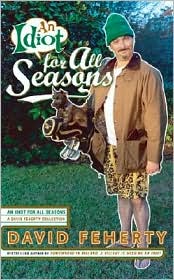 CBS TV Funnyman David Feherty  has attracted concerned stares over the murderous fantasies about Nancy Pelosi and Harry Reid  he revealed while welcoming George Bush to Dallas, but Bush's fellow Preston Hollow resident clearly has other issues.
If you worry who Bush has settled amongst in Dallas, be of good cheer. Bush's neighbors share his willful myopia, because after all, "what a nightmare of a time that was to be president of the United States!"
Yes, poor George did his best, or was stabbed in the back, or something, as he  "he played some of the rotten cards he was dealt."
Feherty is quite the student of  Middle Eastern affairs, as  shown in his evocation of "my own experience visiting the troops in the Middle East," and  "having spent considerable time in the Middle East myself."
This expertise leads the golf comedian to the bold conclusion that "Americans in America have been safe since 9/11, almost the whole length of G2's term as president, and for that we should be thankful."
And just how did he acquire this hard won knowledge of facts on the ground [with added sweep of history] in a dangerous neighborhood?
USO tours!
Yes, 2007 and 2008 crotch joke performances before military audiences, and classic man-dress and camel dung material for the readers back home of have taught Feherty all he needs to know about The Man Who Kept Us Safe. Feherty adds a touch of magic to his tales of desert redemption by saying the stirring war scenes he witnessed caused him to apply for US citizenship
Feherty's Call to Citizenship
But by his own account he has been applying since July of 2003, back when the mission was accomplished, all we feared was dead-enders, and he had yet to travel to freedom's new found land.
 In A Foreign Field